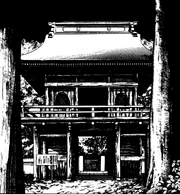 In the middle of the forest there lies the Black Dragon Temple, home to the Buddhist teachings of the School of Eiken.
Description
Edit
Buddha does not discriminate the doors to his home are open to everyone. Regardless of what that person's past was. The Black Dragon Temple is a lair of combatants that were as much physically strengthened as they were spiritually through vigorous training.
Training
Edit
The drastic training of the Black Dragon Temple pushes the body to its very limits. But if you can handle it, the psychological and
physical conditions reach their peak. Every morning the students wake up to the sound of a bell and then cleans themselves from the water in the well which is freezing cold. After that they begin jogging through the mountain path bare footed
Community content is available under
CC-BY-SA
unless otherwise noted.