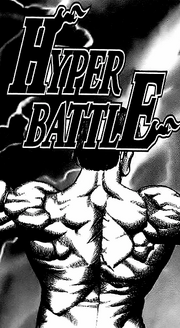 The Hyper Battle is the festival of martial arts. Every year, super stars come from around the world and fight for the title of "The King" as well as a
prize of 100 million$.
Once a year a world wide championship open to all fighting styles occurs. The Cup of Pankration given to the victor is no less than the proof that he is the strongest man on earth. The Hyper Battle is a war a fight where one bets their life. There is no rationality it's only a matter of strength if you win or lose.
Elimination Match
Edit
The tournament to decide who will be the countries representative which is more intense and cruel than the actual Hyper Battles. All participants are in exchange for their contracts issued a life ring. The point of the tournament is to keep ones ring as they steel the ring from other contestants. The winner is the one that survives and has the most rings.
The usage of weapons is not authorized but the use of clothing, belts and whatever else one can get their hands on is fine. Moreover contestants may use any grasses or trees that are on the mountain. Digging holes and setting other traps is also allowed. In general foul plays like eye jabs and biting are valid and so are all other attacks.
During the Elimination Matches a gun will be fired three times. At the first firing contestants will go deep into the mountain forest together and spread out and lurk. At dawn the gun will fire for the second time, signaling the start of the match. And then 24 hours, the gun will fire for the third time to end the match. Only three out of a hundred elite fighters will receive a Hyper Battle delegate ticket. The winner of the Elimination match is given $100,000. As a consolation prize everyone is given $6,000 per ring so as long as they keep their rings by the end of the match even if they aren't one of the three they could end up rich.
Hyper Battle
Edit
Matches in the Hyper Battle are composed of 3 rounds, 10 minutes each
Second Round
Edit
Cage Fighting
Third Round
Edit
The fights location is in a place close to called Dragon Cliff.
Community content is available under
CC-BY-SA
unless otherwise noted.