Kasumiduki
Edit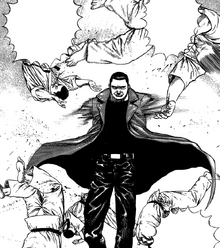 Kasumiduki(lit. Invisible Haze) is a technique that only the top of the Nadashinkage clan can preform. Not even Seiko can perform this technique. The user trains his arms to move so fast the opponent cannot see them.
Training
Edit
By repeatedly striking with bare hands into a pot of boiling water in an effort to retrieve several stones, the trainee eventually boosts their striking speed to the point where they may not only achieve this task without being burned, but strike a target so fast that the arms become invisible to the naked eye. There is a long history of this act in Japanese history. Originally it was punishment for those who did wrong, but the after effects of it were that they became stronger because of it. For if they were fast enough the water would only affect them for a short period of time meaning that the healing process was also quicker due to that. 
Kiryu Miyazawa
Jet
Community content is available under
CC-BY-SA
unless otherwise noted.